The Material Gap 2013: IN | OUT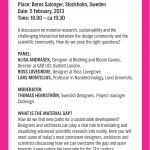 Place: Berns Salonger, Stockholm, Sweden
Date: 5 February, 2013
Time: 18.00 – ca 19.30
Facebook Event
We continue our series of events aiming towards establishing a long term platform for knowledge sharing between cutting edge material research and design/architecture. Material research dissolves all categories we have grown accustomed to such as; tree, steel, glass, etc. This is an enormous challenge and a necessary opportunity for us to deal with sustainability issues more in tune with processes in nature. Ask any plant and it will give you an insight about millions of years of resilient dynamism.
This time, in order to find "creative connection points" between the disciplines, we will  initiate a theme that will look into the interaction between inside and outside. We usually call this surface, cladding, skin, cell wall, etc. We are moving towards creating objects, material systems or buildings that will have a more dynamic responsive relationship to their environment. Don't be alarmed if they soon will be capable of interbreeding and producing fertile offspring.
Each participant will give an introduction to their work, followed by a discussion that will touch upon the theme. The event is more about finding out what questions to ask rather than giving the right answers.
Panel
Alisa Andrasek: Designer at Biothing and Bloom Games. Director at GAD UCL Bartlett London
www.biothing.org
Ross Lovegrove: Designer at Ross Lovegrove
www.rosslovegrove.com
Lars Montelius: Professor in Nanotechnology at the University of Lund
www.nano.lth.se/lars.montelius
Moderator:
Thomas Herrström, Project manager Codesign
The Material Gap is a collaboration between SVENSK FORM – www.svenskform.se, THE ANTONIA AX:SON JOHNSON FOUNDATION FOR SUSTAINABLE DEVELOPMENT – www.axtalk.se  and BIOINSPIRED FORUM – www.bioinspiredforum.com.
————————————————————————————————————————————————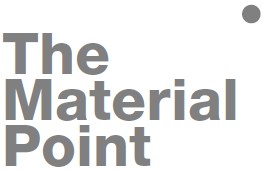 What's next? The future platform for knowledge sharing – THE MATERIAL POINT – will be developed as a collaborative project. If you are interested to be part of this please contact: Mats Brodén, mats@bioinspiredforum.com, +46707773450
Read more>>http://bioinspiredforum.com/concepts/the-material-point/